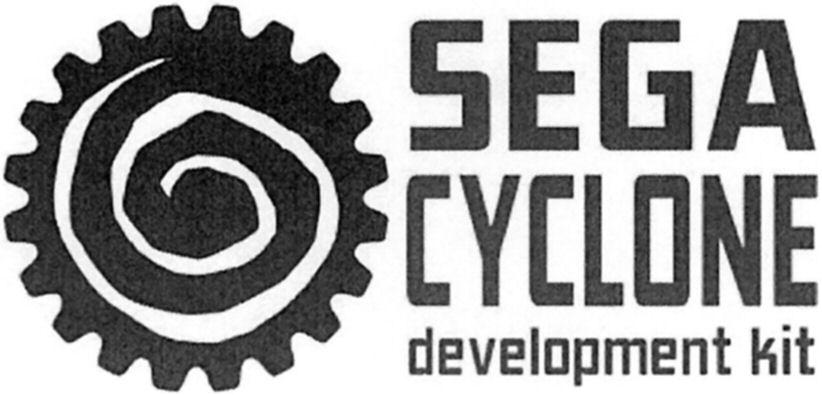 "Sega Cyclone Development Kit" the Japanese Trademark filed by SEGA last Fall, and the Trademark that entered the WIPO has finally and officially entered the US Trademark Office for full viewing.
https://trademarks.justia.com/791/82/sega-cyclone-development-79182282.html
The IP Mark,who's logo can be seen above , was falsely assumed to be an update of an Arcade simulator that was sold and played only in Europe several years ago called "Typhoon" which by the way is NOT a Sega property or IP, nor it is licensed by SEGA. So those assumptions were not only incredulous, they were grossly over-compensated.
The Application description reads as shown here:


Word Mark
SEGA CYCLONE DEVELOPMENT KIT
Goods and Services
IC 009. US 021 023 026 036 038. G & S: Computer game programs; computer game software; video game software; video game programs; video game discs and cartridges; computer game software for use on mobile and cellular phones; computer software for software design, development and testing and related computer-aided software testing tools; game engine software for video game development and operation; computer software development tools
Mark Drawing Code
(3) DESIGN PLUS WORDS, LETTERS, AND/OR NUMBERS
Design Search Code
15.07.01 - Cog wheels; Gears
26.01.26 - Coils; Spirals; Swirls
Serial Number
79182282
Filing Date
November 12, 2015
Current Basis
66A
Original Filing Basis
66A
International Registration Number
1287117
Owner
(APPLICANT) SEGA Games Co., Ltd. CORPORATION JAPAN 1-2-12, Haneda, Ota-ku; Tokyo JAPAN
Priority Date
November 9, 2015
Description of Mark
Color is not claimed as a feature of the mark.
Type of Mark
TRADEMARK
Register
PRINCIPAL
Live/Dead Indicator
LIVE





Notice the words "SEGA CYCLONE" are in bold letters. This is because of 2 things: 1. This printing method used by the US Trademark Office database bolds Mark logos to help them be distinguishable and 2, Highlighting words in a US Trademark Application, usually indicates that the application has another brand Trademark associated with it that will also eventually enter the Trademark database.

This means, its highly VERY possible, that Sega Cyclone is a separate product, and that much like this application states, this is for its Development Kit.


Another interesting thing to note is the logo design and theme. The Sprockets and Cogs are both references to the Jetsons, now keep in mind, NVIDIA has a Mobile Motherboard CPU called Jetson, so this could certainly be a coincidence: http://www.nvidia.com/object/embedded-systems.html

Also, the "Swirl". Get it? They're using a "Swirl".


So the remaining question, what exactly is "Sega Cyclone"? Is it an "Arcade" or "Console".

I'm inclined to believe, possibly both. After all, its not out of the ordinary for SEGA to Trademark a prototype for a product that they will eventually use(Saturn had a different prototype trademark filed back in 1993: https://trademarks.justia.com/744/69/segasaturn-74469937.html



If you are wondering if its possible that this will remain a prototype and likely never get used much like "Sega Drive, "Sega Jupiter" and "Sega Neptune", the answer is simply, No.


That's because, this Mark was filed under the Madrid in the WIPO. And thus has been sent to the US Trademark office for fill final review, prior to Full International Registration. "Sega Drive" was filed under 44b(Bonafide Intent To Use), which is normally used for Trademark IPs that are considered, but often never used because the applicant simply forgets about them.



Again, Sega Cyclone Development Kit, is under the Madrid Protocol. It's GOING to be used, regardless.